Client and Fortitude Training Testomonials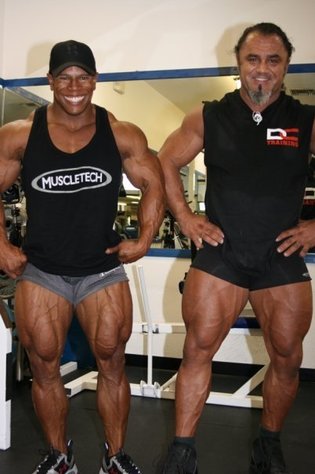 From IFBB Pro Dave Henry
Scott and I met back in 2003 in the gym (of course), on our old stomping grounds in Tucson AZ. He saw me training extremely hard and asked if I wanted a better method for size. Soon thereafter, we started training together and soon had me convinced to give Doggcrapp (DC) training a shot. As most of you know, Scott and I trained DC for years (we were training partners for almost a decade) and would often grab food and talk shop after the gym. Slowly I figured out and trusted Scott knew a thing or two. I began to rely upon him (and Dante Trudel in the early days) to help me tweak training and diet and get dialed in.
Sometimes he just helped a little (maybe to get my prep started and help me in the last few weeks) and sometimes a bit more. Scott has assisted with everything from posing to even some acupuncture treatments after getting a little banged from a motorcycle incident. His coaching was instrumental when I won the first 202 Mr. Olympia back in 2008.
The 212 division competition is tough and more prestigious that it ever was. I knew I needed to up my game to stay on top of the field. In 2014, I came down to Florida to spend a week with Scott to get insight on how to execute Fortitude Training "the right way." (I had been doing a kind of prototype that Scott asked me to test. It worked really well, so I stuck with it, but I wanted to get the real deal to be my absolute best.)
Finally, this year (2016), we decided to work together for a full tilt prep (for Arnold Classic 212), and all pistons were firing. I was totally on point for this show, and improved overall (even my legs!). Although not victorious, many "in the know" believed I should have, based upon improvements and condition to be my all-time best. I've been loyal to Scott over the years for good reason. (Trust me, there have been lots of guru trainers who wanted to take me on to share in the limelight.) He has always done right by me, friends first, coach/trainer second. I can't recommend Scott enough as a coach and a person who will always have your best interests in mind.
Dave Henry
, IFBB Professional Bodybuilder [202 Mr. Olympia, 2008 and 9X IFBB Pro Champion]
---
From IFBB Pro Melissa Tucker.

"I was a Beta Tester of Dr. Scott Stevenson's Fortitude Training Program in 2013. I employed his supplement and nutritional timing recommendations, and unique training modality as my show prep for Masters Nationals where I won my IFBB pro card. The program was intense, provided variety and grew more muscle than I've been able to put o n in multiple off-seasons. Scott offers volumes of science-based information and concise techniques that will demand peak physical performance by those fortitudinally gifted enough to attempt it. Im honored to have been invited into the inner sanctum...as Scott provides a glimpse into the secret of growing muscle!"

See Below for an

Interview with Melissa

!

Melissa Tucker
IFBB Women's Physique Professional

---
---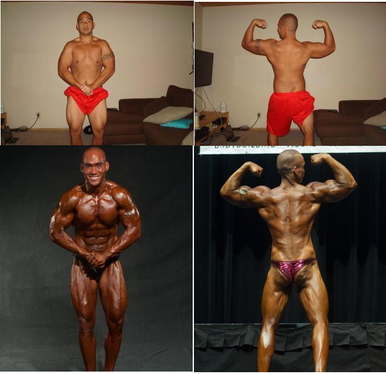 From Client and Coach, Kelly Valdez.
"I have about 10 years of solid training under my belt and I can honestly say that Fortitude training is by the far the most effective and enjoyable training routines I have ever done. I have an open mind and am willing to give everything a shot with regard to weight training. I've done low volume, high volume, HIIT, and many other programs but I found Fortitude to produce the most results. The beauty of choosing your exercises, and the variety of sets (pump sets, muscle rounds, loading sets ) kept things interesting and enjoyable. In addition, the diet and supplementation went hand in hand with the training program. Never in my wildest dreams did I think I would be able to hit each muscle group so frequent and recover so well. I used FT training for my recent bodybuilding contest. I gained strength throughout the entire contest prep and the icing on the cake was I didn't have to do as much cardio and was able to eat more food compared to previous contest preps! I am very glad Scott introduced me to this training, I was able to come in to my bodybuilding show 10lbs heavier and with equal condition from my last show. If you are willing to put in the work, there's no doubt in my mind that you will see great changes in your physique as well."
Kelly Valdez, RD
Aiea, HI
---
Fortitude Training Testimonial by IBB Board Member (and dog lover) Altamir
"I cannot say enough positive things about Fortitude Training. I've never worked harder or gotten better results in the gym in such a short period of time. I've been able to train harder, longer, and more frequently than I thought possible. This combined with how metabolically demanding Fortitude Training is has allowed me to increase my calories and carbohydrates, re sulting in a better performance and muscle gain than I have personally seen in a long time.
Along with being hard, Fortitude Training is fun and enjoyable. There is enough structure to guide you, but enough freedom to allow you to pick the lifts you love, and truly make the program your own. It is easily customizable to work with your weak points, injuries, and own recovery abilities. There is an emphasis on both free weights and machines, as well as a wide variety of rep ranges. This keeps things from getting stale and makes every set in challenging in a unique way.
Perhaps best of all, is that I have learned so much personally about myself, my recovery, and what makes me grow by doing Fortitude than since first few years of picking up a barbell. When applied intelligently, you can truly see how far you can push yourself, and still know exactly what you need to do to back off, and instead of regressing, keeping progress moving forward. These lessons I will take with me and use no matter what training system I use in the future."
You can see and follow my progress in my training log.
Altamir's Training Log
From "Johnny Napalm"
"Im still using fortitude training and i can honestly say its the best program ive ever used. My shoulder problems have gone completely and i have zero niggles. I find that tier 1 is enough for me as long as i keep the intensity up. …. Ive got an old friend training with me recently and he's making the best gains of his life using fortitude.. He's finding it somewhat of a revelation. :)... I can't emphasise how good fortitude training is mate. I'm tempted to keep it a secret."
---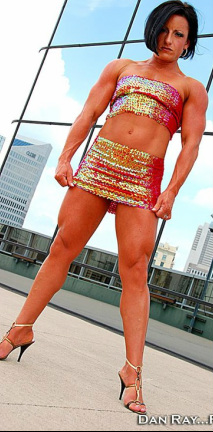 From Jennifer G. (IBB Board Member)
"Fortitude Training program rocking so far!! Scott Stevenson is genius. And joint pain free. Happy happy happy."
---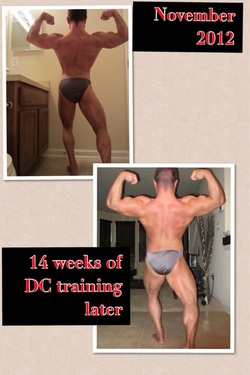 From my dear Friend, Kris Pisarcik (Rest in Peace, my Brother):

(Note: Testimonial from 1st time, Pics from the 2nd time Kris and I teamed up.)
"I began working with Scott in April of 2011. At that time I was finally recovered from a dislocated shoulder and was struggling to find the right balance with my nutrition so that I would be able to add muscle without a significant increase in bodyfat. Prior to this I was on an extremely calorie restricted diet to "get ripped" but all this did was hamper my metabolism thus making it difficult to eat at a surplus to build muscle without accumulating fat.

When I contacted Scott I could immediately tell he was different than other "coaches" I corresponded with (I searched extensively to find someone I felt comfortable with before coming on-board with Scott). His holistic approach to coaching is not simply marketing jargon; it is his true methodology that he stands by through and through. Scott did not look at me as a physique, he took the time to ask questions to understand me on the personal level and gain a perspective of what makes me tick, what motivates me, my lifestyle, health, emotions, goals…etc. And he wasn't just asking these things because he is a nice guy (which he is, and his jokes and anecdotes crack me up), he wanted to be sure that any program set-up would work synergistically with my life and not only allow me to achieve my physique and training goals, but allow me to life a more fulfilling life outside of the gym.

Over the first several months, things were phenomenal! In just over six months I gained nearly twenty pounds while reducing my bodyfat! However, towards the end of 2011 I had a number of health issues, which put a damper on my progress. I could have easily just threw in the towel back right then, but Scott kept me motivated to keep pushing on and gave me a sense of hope and confidence that made me feel things would eventually turn out all right.

Scott was incredible through this process, going above and beyond what one would expect a fitness coach to do by helping me understand my health issues and providing me with the resources needed to learn about my issues. Although he could not treat me physically as a Doctor, he provided me with the guidance and direction so that I could find Doctors who could help and ensured that I asked the right questions and got the proper treatment I needed in order to become healthy, both mentally and physically. In all honesty, if it wasn't for Scott, I would be a physical and mental wreck and have a much darker perspective on life. When he says he uses a holistic approach to coaching in addressing the individual as both a physical and emotional being, beyond just training, that is no exaggeration. His comprehensive philosophy is what has allowed me to find out what was going on inside me and become healthy.

As willing as I am to learn, it takes a good (major understatement in this case) coach to be able to articulate a theory, methodology or strategy effectively and in a way that fits with the client's personality and mentality. Scott definitely has a way of not just telling you things to do, he asks the questions that make you think of things on your own. He seems to already know what the problem is and what the solution should be, but instead of just telling you, "Do this...", he asks very specific questions so that you become in-tune with thought process and can see the logic behind the course of action, which makes you feel as if you came to the conclusion on your own. Working in such a Socratic method really instilled a sense of trust and confidence and allowed for some great dialogue and a deeper understanding of the body and internal and external factors that affect each individual in unique ways. In working with Scott, I know that if I stick to the plan I will continue to improve and I will be able reach my potential. If I happen to fall short, I know it because I lacked in the execution of the plan, but I do not see that happening....

Despite never meeting Scott in person, there is not a thing I would change about working with him and I plan to continue working with Scott as long as he will have me as a client.

In retrospect, working with Scott has not only been the best decision I made to advance my physique, it is one of the best decisions for my overall health I think I have ever made.

Scott, all I have to say is "Thank You!"

Sincerely,

Kris"
---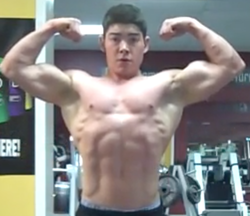 From
Sam MIller, NPC Bodybuilder
North Carolina, USA
Working with Scott is a unique experience that is worth the consultation fee. Not only are his options reasonable, but they are cost effective over the long term. Many training and nutrition experts have repeat customers. Scott will be more than happy to assist you with multiple question and answer sessions, but his goal is to educate you enough so that you can achieve your goals on your own. Scott will use multiple methods, and is not afraid to deviate from one set system in order to discover what works specifically for you.
​
I found his consultations to be especially helpful in regards to a specific medical condition that I have. Whether its assistance researching potential supplements, or boosting your immunity during flu season, Scott has a vast knowledge base regarding both herbals and bodybuilding oriented supplements. Many people focus on short term results when hiring a coach or consultant, but never are fully taught by their coaches how to run and implement changes in their own diet and training. Scott brings the short term results along with the teaching ability to allow you to succeed over the long haul.
​
-Sam Miller
---
From IBB Board member j2048b:
"Im on a ton of other boards with the same screen name [j2048b], bought FT, and cried when i actually read it…"
From IFBB Board Member zsx:
"...but following FT these last 6 months I have had some of the greatest results and most enjoyable time."
From IFBB Board Member mikeland91:
"I started FT the week it came out ..I dont know what I can say , other than I'd never train any other way ! Lol Honstly the program is awsome , I got stronger than ever on it and gains were great So thanks Scott for FT and just being the Most knowledgeable and genuine guy in the industry ."
From IFBB Board Member Lawman:
"One of the smartest principles is the IC <Intensive Cruise>. Keeps your gains but let's you recover. Thanks for the program, Scott. You're keeping this old fossil in the game."
From IFBB Board Member Rich.A:
"I always hated traditional leg days and the pump sets, muscle rounds and zig zagging is a great way of busting through it."
From IFBB Board Member NedR:
"Just finished reading FT and love the whole concept. The details along with the program's versatility are terrific."